Gel Questions
1. What are gels used for?
Lighting gel sheets are used primarily to change or filter the color of light. There are several categories of gel sheets, including color effect, color correction, diffusion, reflection and scrim.
Gel sheets are typically used by theatre directors, technical directors, production managers, and stage crews to change the color of light in theatrical or stage productions Gels are also used for tv, film and movie production purposes. Gel sheets can also be used to block unwanted light, with the use of black foil, from a shoot.

2. Are lighting gels fire-proof?
Standard lighting gel sheets are not fire-proof and the user must use the product carefully s
o as to avoid fire hazards when working with light fixtures. A gel sheet should never be placed directly on or in close proximity to a lighting fixture. The light fixture could cause the gel sheet to catch on fire. To attach a gel sheet safely to a lighting fixture,
the user must attach the gel sheet to a gel color frame which is compatible with the lighting fixture in use.

3. What size (dimensions) are Lee Filters gel sheets? Are gels available in a format other than a gel sheet?
Lee Filters gel sheets are available in many different sizes:
Standard regular temperature gel sheets are in the dimensions of 21 inches by 24 inches.

High temperature gel sheets are in the dimensions of 21 inches by 22 inches.

Full gel sheets are in the dimensions of 48 inches by 21 inches

Gels are also available in rolls. Rolls are available in 2 inch increments (2,4,6,8 inches in height) and are 25 feet in length.
4. What if I have a competitors gel sheet number? How do I locate the Lee Filters gel sheet number that is the came as a competitor's product?
The Lee Filters website has a great function, which is named "gel comparator", which allows you to plug in the name of any make of gel sheet and find the comparable Lee Filters color. You can find the gel comparator at the following link: GEL COMPARATOR


Another great source to see how other manufacturer's colors (Rosco, Rosco E-Coluor, Apollo, Gamcolor, CineFilter) translate to Lee Filters gel sheet colors is to reference the Lee Filters Color Comparison poster, which you can find at the following link: POSTER & OTHER RESOURCES
5. What if I am trying to adjust for a certain type of lamp or fixture?
If you would like to figure out which gel sheet would work best with a specific type of lamp or fixture, then you can consult the Lee Filters "mired shift calculator" at the following link: MIRED SHIFT CALCULATOR
You will input the original source value and the converted source value, in kelvin, and the mired shift calculator will recommend the appropriate gel filter color.
6. Is there an easy way to see all the colors?
Lee Filters currently has about 250 different colors available in their product selection of gel sheets. There are a couple of different ways to look at the full offering of Lee Filters gel sheets:
a. The Lee Filters website has an application called "swatchball" in which you can drag your mouse to the color that you are interested in invetigating. This can help you locate the color codes in the range of colors that you are considering.
You can find the link to download the Lee Filters "swatchball"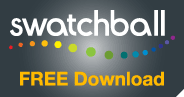 application at the bottom of the page of the following link: SWATCHBALL
b. You can look at the full range of Lee Filters gel sheets, by filter type, using the following links:
c. Another method to view the full line of Lee Filters products is to order a Lee Filters swatchbook which has a small (roughly 2 inch by 1/2 inch) sample gel sheet for each gel.
d. To find all Lee Filters gel sheets offered on the GoKnight.com website, you can simple type "Lee" or "Lee Filters" into the internal search (the search bar within the website) and all Lee Filters gel sheets will display.
7. How do I attach a gel sheet to a lighting fixture?
The recommeded method for attaching a gel sheet to a lighting fixture is to use a color frame or gel frame. The color frame/gel frame is attached to the light emmiting end of the lighting fixture. The gel sheet is then placed in the color frame.
8. At what temperature do gel sheets work?
A standard polyester gel sheet should sustain temperature up to 180 degrees celsius/356 degrees fahrenheit.
A high temperature gel sheet should sustain temperatures up to 280 degrees celsius/536 degrees fahrenheit.
There is not any published information regarding the various wattages of sources and how they affect the filters.
The best we can offer is the melting points / max temperature which is 356 fahrenheit for the polyester gel and 536 fahrenheit for the polycarbonate (high temperature).
9. What material is a gel sheet made from?
Gel sheets are made from a few different types of materials. Standard gel sheets are made from a very thin polyester material. Gel sheets are also available in dichroic and glass forms.
10. Can I cut a gel sheet?
Yes, a gel sheet is made of very thin material which can be cut easily with scissors or a box-cutter. The gel sheets can be cut down to whatever size dimensions you should need.
11. Why should I buy gel sheets from GoKnight.com?
GoKnight tries to stock, at all times, the full line of Lee Filters gel sheets to ensure that our clients will have available to them, always, whatever gel sheet it is that they need. Also, GoKnight's technicians are available via phone or chat to help you determine which gel sheet might be the best for your needs. We ship gel sheets in a sturdy mailing tube which keeps the gel sheets well-protected and minimizes the risk of wrinkles or knicks. We can also place large or custom orders of gel sheets directly through Lee Filters. GoKnight (the webstore for Knight Sound & Lighting) is an authorized Lee Filters dealer.
12. What if I need help selecting the right color of gel sheet?
The selection of a gel sheet color is a very personal process. Everyone sees colors in a slightly different way. It can sometimes be difficult to communicate exactly which color you are envisioning in your mind's eye. For instance, one person's definition of the color "plum" will not necessarily be the same as another person's.
For these reasons, we would definitely recommed that you consult the Lee Filters website and use their "swatchball" product or their "gel comparator" product to help guide your color selection. It is also very useful to use a LeeFilters swatchbook to guide your product selection. Please also bare in mind that the picture images online of all gel filters are best viewed at a depth of 256 colors or more. GoKnight can provide you with a range of gel sheets that might meet your color needs. You can contact us via phone, email or chat if you need support with your gel sheet color selection.
13. How thick are gel sheets?
Most Polyester coloured effect filters are 0.08mm thick

Diffusion filters vary in thickness

Zircon gels are 0.18 mm thick